Not long remains until the frightening Halloween Day. People dressed as ghosts or sporting ominous pumpkin masks would soon be commonplace. Halloween comes first, followed by Thanksgiving, Black Friday, Cyber Monday, Christmas, and New Year's Day as eCommerce businesses begin to organize their holiday marketing strategies. The most well-known holiday is Halloween. Consumers are not the only ones who are happy about it; e-retailers also have a great opportunity to increase sales as a result. In this article, I'll provide you with some effective Halloween marketing ideas that will help you get into the holiday spirit and boost sales.
Top 10 Halloween Marketing Ideas to Boost Your Sales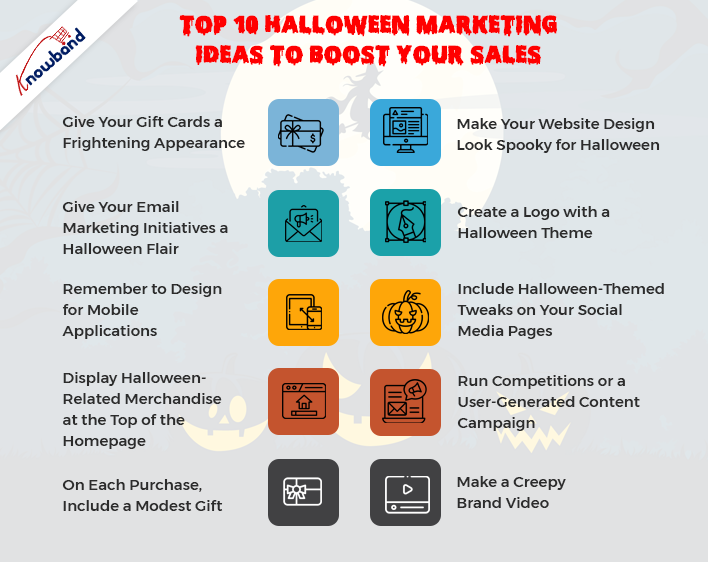 1. Make Your Website Design Look Spooky for Halloween
Customizing your store for Halloween should be the first and primary action you do for Halloween marketing. Give your website's visitors and customers a taste of Halloween the moment they land there. Your home page, product page, registration form, and other pages should all have a few eerie aspects. Use ominous typefaces. Create a startling effect with your banner design.
For instance, you may use a Halloween theme if your website offers a Spin and Popup to give the wheel a festive feel.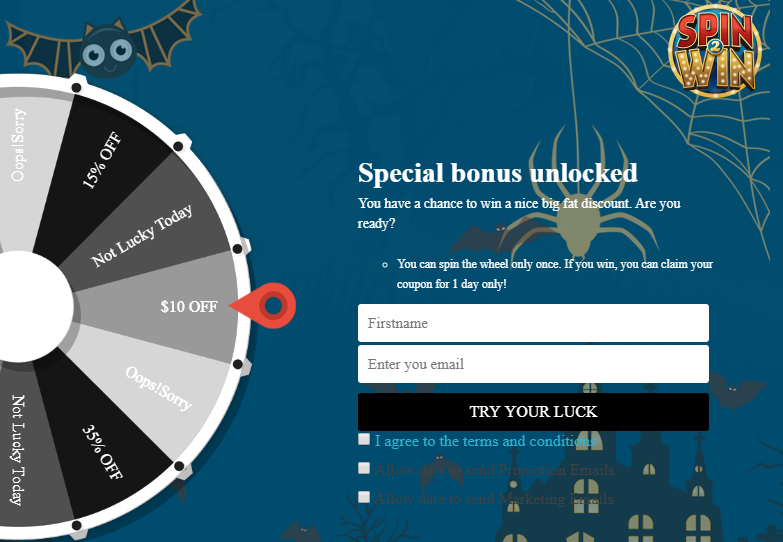 The Spin and Win extension for PrestaShop by KnowBand is demonstrated below. It provides pre-existing templates for important events other than just Halloween. These popup themes aid in increasing client engagement.
2. Create a Logo with a Halloween Theme
Another Halloween marketing concept is to give your brand's logo a Halloween makeover by using a few creepy components like a spooky pumpkin, a haunted house, bats, etc. By doing so, you'll be able to attract visitors' attention and the Halloween atmosphere.
3. Include Halloween-Themed Tweaks on Your Social Media Pages
A further suggestion for Halloween marketing is to consider changing the profile and cover photo on your social media profiles to a Halloween-themed image. It should remind your followers about the approaching holiday season and draw their attention to it.
You can advertise a current offer or promotion on your cover photo.
4. Run Competitions or a User-Generated Content Campaign
Hosting Halloween contests or launching a user-generated content campaign where you may urge users to post and submit their photos of themselves dressed as Halloween characters by using a certain Hashtag would be two of the most successful Halloween marketing techniques.
You can offer gift cards or discount vouchers in exchange for those that have the scariest appearance. These kinds of initiatives increase brand recognition on social media sites.
5. Make a Creepy Brand Video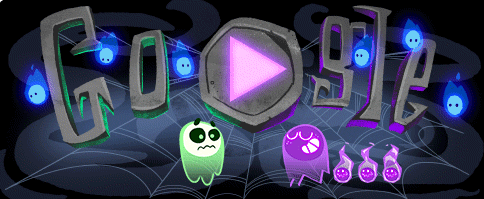 A lot of people are using video marketing. After the upsurge, marketers are not passing up any chance to impress their audience with their creative prowess.
The holiday season is the ideal time to promote your brand, and there is no better way to do it than with a clever film that may also have a humorous message.
Come up with anything related to your brand after doing some idea-storming. If your Halloween marketing video becomes viral, you can inspire other businesses to improve their marketing strategies and help consumers remember your brand.
6. Give Your Gift Cards a Frightening Appearance
If your shop sells gift cards, Halloween-themed gift card designs would be a fantastic Halloween marketing strategy.
Due to people's hectic schedules and haste to buy gifts for their loved ones, digital gift cards are sold in enormous quantities throughout the holiday season. Gift cards come in handy at this crucial moment. Your gift cards would have more than enough justification for customers to choose the gift card purchase if you gave them a festive flair.
You can take a look at our PrestaShop Gift Card addition, which includes gift card layouts already created for occasions like Halloween, Christmas, and the New Year. You can design your gift card templates using this add-on based on your specifications.
7. Give Your Email Marketing Initiatives a Halloween Flair

It's time to switch up your strategy if you've been following tradition up until now. Adding a festive theme to your newsletters or promotional emails can have a significant influence on sales and brand awareness. Include your promotions in your emails and inform your readers of the advantages they can get from your store during the Halloween season.
Keep a regular schedule as well.
8. Remember to Design for Mobile Applications
If your company has a mobile app, this is the ideal time to incorporate some Halloween-related features into it. In actuality, you ought to offer your app icon a Halloween-themed appearance as well.
In the coming years, mobile commerce sales will greatly outpace those made on desktop computers. Therefore, you should optimize everything you plan for the desktop version for the mobile version as well. Additionally, you can conduct particular campaigns and offers that are available just on the mobile app.
To promote your Halloween marketing initiatives, you should make the most of push notifications.
9. Display Halloween-Related Merchandise at the Top of the Homepage
Be one step ahead of your rivals by assisting your customers in selecting the ideal Halloween present for their friends or family in addition to offering discounts to them.
Display the pertinent products on the Home Page to draw visitors' attention and encourage them to shop. In this approach, you'll be able to inspire gift ideas in the minds of your clients and assist them in selecting a gift that they might not have thought to get themselves.
10. On Each Purchase, Include a Modest Gift
To improve the customer's purchasing experience, include a small gift with a certain theme with each order. Customers would remember your brand the following time they visit your business for Halloween shopping, and it would probably put a smile on their faces.
Conclusion
For eCommerce merchants, the next three to four months will be extremely busy. During the busiest holiday season, they would be trying to close as many deals as they could.
With Halloween, you may begin your holiday marketing. Even though sales should be your main priority, don't forget to engage in enjoyable activities with your followers and consumers.