Online sales are without a doubt the current market trend. More and more offline companies are switching to online ones for the same reason. Then why not? Who would want to miss out on the eCommerce heyday? Marketplaces are used by retailers in addition to their own brick-and-mortar stores. For instance, some of the well-known names are large markets like eBay, Etsy, AliExpress, Amazon, and several more.
These marketplaces also have advantages and disadvantages for buyers and sellers. Despite the large fan bases of popular online retailers like Etsy Marketplace, merchants should always prioritize a few things before launching their business on Etsy. This blog will not only look at why and why not, but it will also talk about different ways to sell on the Etsy Marketplace.
Reason to Select Vs Dismiss the Etsy Marketplace

Etsy Listing Fee
Why?
In terms of product listing fees, Etsy is one of the preferred marketplaces for merchants. Etsy, if you are a small business owner for the same reason charges new users 0.2 USD for each product listing. It won't be that difficult for you to start selling.
However, Etsy Merchants are required to renew their product listings every four months.
Why Not?
Additionally, continuing listing fees are the largest drawback you experience. Makers can offer their creations on Etsy, a marketplace. Shoppers and other category sellers find it challenging to keep up with these costs when it comes to paying the charge every four months on specific listings.
Etsy is a challenging venue for online retailers to select for the same reason.
Brand Building
Why?
Building your brand while being an Etsy seller is possible. You can use your creativity when creating your products and creating listings on Etsy.
Your store will see an increase in traffic and conversions as long as you are transparent about its mission, unique selling proposition during production, and talent. You are able to create a highly customized storefront on Etsy. Opening an Etsy shop is quite easy.
Everything that is handmade, retro, personalized, and unique may be found on Etsy. Look into what you can sell on Etsy to build your brand.
Why Not?
Despite the fact that it could be challenging, you will enjoy opening your store. The management of your store becomes increasingly challenging. if you market your products on sites like Walmart, Amazon, and eBay.
On Etsy, the listing descriptions are often more thorough, and you are required to include information about every aspect of the product. Making a brand and shopping on Etsy will take up a large amount of your time if you are a full-fledged entrepreneur who handles numerous stores.
Similar to Amazon, Etsy features several well-known brands that are added to buyers' preference lists automatically. Customers choose from a pre-built brand name with a distinct philosophy for the same reason.
Consequently, Etsy is surely a challenge for novices to overcome.
Etsy Optimized for Search Engines

Why?
The listings on Etsy are managed in accordance with a robust SEO strategy. Additionally, it does comparisons between your listings and others in your product category based on a particular criterion. The best result is chosen to appear on the first page of the search results when the buyer types in a query. If you learn the technique of Etsy SEO and fill each of your Etsy listings with relevant and appropriate keywords, you can take first place.
Why Not?
If they are not correctly optimized, your listings can suffer further. Most of the sellers who have left Etsy have complained that the site's SEO algorithm is frequently changed to their dissatisfaction. If not, think about making your listing's title, description, and Shop About section keyword-optimized. Your listings won't show up in search results, and you'll probably suffer as a result. Thus, handling Etsy SEO management for sellers is always a crucial duty.
Although there are a number of advantages and disadvantages to selling on Etsy that are widely available. However, online vendors continue to rank the market as their main selling channel. Furthermore, Etsy will undoubtedly provide you with a number of advantages if you have done your research well. However, using the Knowband Etsy Marketplace API Integration is another option to profit from selling on eBay.
How to Play the Etsy Selling Game of Win-Win?

The response to the query is uncomplicated. Selling solely on Etsy won't be enough if you're hoping for a huge game. The brand stores are the same way. It might not be a good idea if your only source of sales is your internet store. A multi-channel selling approach underpins the contemporary online business sector.
Adding to the already existing options, online store owners can now sell their goods on Etsy. eCommerce retailers can access Knowband's Etsy Marketplace Connectors. Additionally, the plugins are now accessible for the Magento 2, PrestaShop, OpenCart, and WooCommerce platforms.
These connections not only help to establish a connection between online shops and Etsy, but they also give the admin access to real-time stock management.
Simply put, online retailers can sell the same stock—and even more—of their online store's inventory on Etsy. Let's quickly go over some of Knowband's cutest Etsy Marketplace Connectors offers.
No Code Integration
The first thing that springs to mind when establishing connections between two platforms is an API. Yes, there is a tonne of technical knowledge. Conversely, Knowband Etsy Connectors are a no-code remedy. The plugins are designed specifically to provide an all-inclusive no-code link between online stores and Etsy. The use of code is no longer required for eCommerce businesses using PrestaShop, OpenCart, Magento 2, or WooCommerce to sell on Etsy.
Backend's Handling of Etsy Shops
Online vendors will not need to go to Etsy to manage their Etsy inventory thanks to the shop backend's handling of Etsy shops. Additionally, online merchants can access their Etsy Dashboard directly from the back end of their shop via the module setting panel. Sellers will be able to edit their shops in addition to managing Etsy orders. Additionally, the vendors will receive full access to ready-to-use cron jobs. The vendors can manage all of their manual tasks by utilizing the same with a single click on the cron buttons.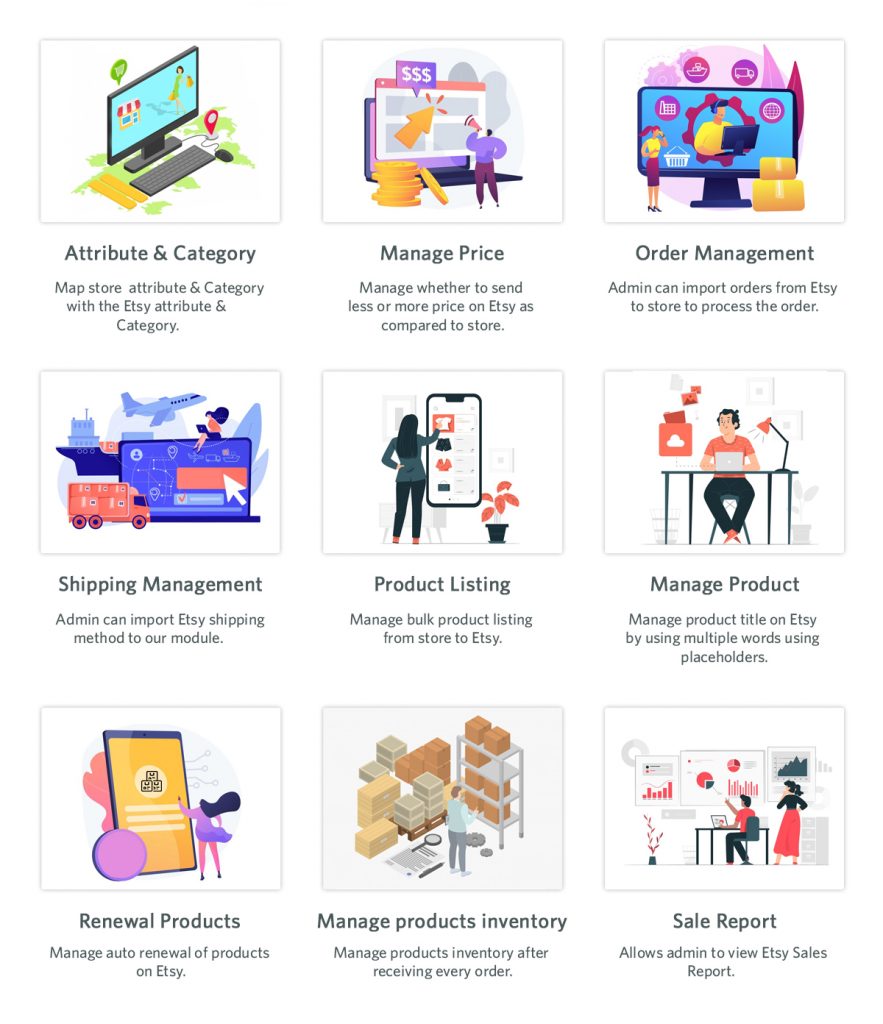 Real-time Inventory Synchronization
Product synchronization is made simple with Knowband's Etsy Marketplace Connectors, in addition to all the other outstanding services they provide. For instance, suppose you have 100 of a product in stock in your business, and one of them is sold. The quantity sold from either an online store or Etsy will update instantly in both locations.
Price Management
What distinguishes our Etsy Marketplace Connector modules from the competition is the following feature. It is a well-known truth that Etsy assesses a fee to online vendors for the sale of their wares. The administrators of online stores will now have all available alternatives to get around Etsy commission. How? Sellers have access to price management tools using Knowband's Etsy Integration modules. To offer a product from their shop on Etsy with increased/decreased pricing, the sellers can select a fixed sum or %.
PrestaShop's Etsy integration Module:
A smooth link between the online store and Etsy is provided by the PrestaShop Etsy Marketplace Integration Addon. Additionally, to connect their store to Etsy, PrestaShop-based online store owners can also sell the same goods on the marketplace. Additionally, a one-time payment option is offered via the Knowband PrestaShop Etsy Connector addon. In order to use the services, the sellers won't need to renew their module membership on a monthly basis.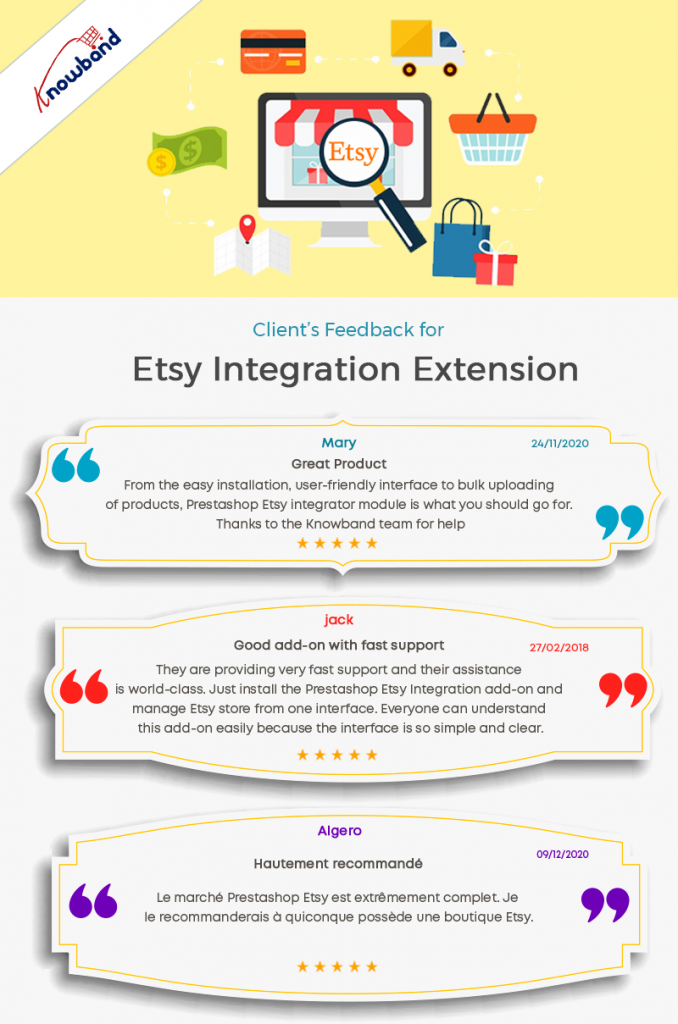 OpenCart Extension for Etsy Integration:
For the OpenCart platform, the Etsy API Integration is now also accessible. Similar to PrestaShop Online sellers, businesses that use OpenCart as their shop's foundational platform can also sell on Etsy. The Etsy Integration Extension is a multi-channel selling solution available to OpenCart merchants.
WooCommerce Etsy Marketplace Integrator Plugin:
The WooCommerce plugin for the Etsy Connector was just released by Knowband. An easy-to-manage, no-code solution for multi-channel selling is the Etsy connection. Despite the fact that the sellers will sell on two different platforms, all the controls are accessible from the WooCommerce shop back end.
Magento 2 Etsy Marketplace Connector Module:

Online merchants using Magento 2 can also use Knowband's Etsy API Integration to sell on the Etsy Marketplace. An effective interface for managing product listings, inventory, and orders for the Etsy marketplace is provided by the Etsy Magento 2 Integration module in the Magento 2 Store admin panel.
At the End
Knowband has been happily serving the eCommerce business sector for the past 12 years. All we have to offer on this beautiful journey is a content family of more than 60,000 eCommerce retailers.
Along with ready-to-use extensions for the eBay and Google Shopping marketplaces, we also offer modules for the Etsy API Connector. For instance, sellers of PrestaShop, OpenCart, WooCommerce, and Magento 2 stores can use the Knowband Marketplace integration to sell on eBay, Etsy, and Google Shopping.