With the Etsy integration for WooCommerce, selling is simple. With the Etsy connection for WooCommerce, you can sell without any trouble thanks to automated orders, updates in real-time, synchronized inventory, and more.
Why sell on Etsy?
A global marketplace called Etsy, eBay specializes in selling one-of-a-kind and imaginative products, including handmade, vintage, and craft supplies. Etsy is a well-known marketplace for goods including art, jewelry, apparel, accessories, health & beauty products, and a lot more.
It offers a platform for any person to launch their own business and spur growth. The following are some benefits of selling in the Etsy marketplace. –
Each item is unique; Etsy is well renowned for its one-of-a-kind, handcrafted, and vintage goods. It enables you to sell products that are 20 years old.
Low overhead costs – Setting up a shop on Etsy is free, and you just pay $0.20 to list your things there for a period of four months, or until they sell.
Customers are given liberty by Etsy, which allows you to customize your layout, theme, and CSS, and even add your own custom scripts.
WooCommerce's Etsy Connector Features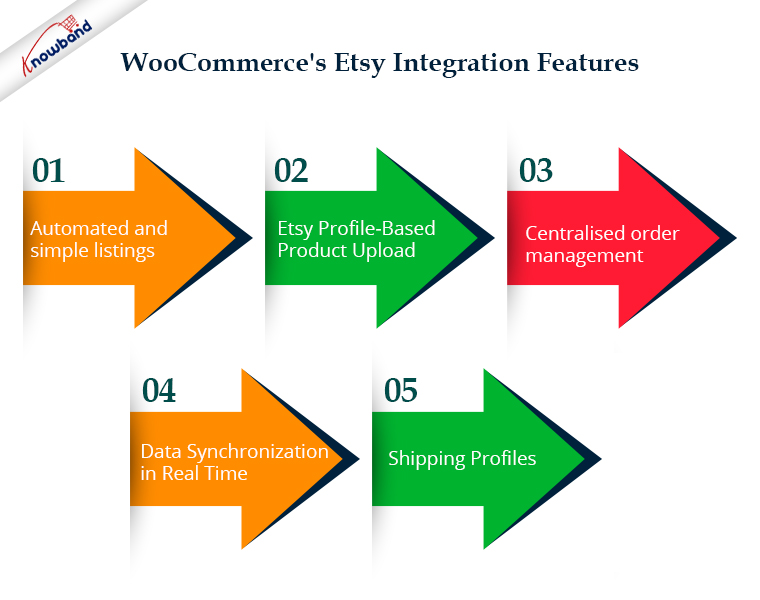 By connecting your Etsy shop using the Etsy Integration for WooCommerce extension, you may quickly access your Etsy store with one click authorization.
Automated and Simple listings
With a single click, bulk-upload your WooCommerce listings to Etsy Store and simultaneously set different inventory rules, pricing strategies, shipping alternatives, or listing details.
Etsy Profile-Based Product Upload
As customers will find it simple to browse products on Etsy, this will boost the visibility of your products. Upload your products depending on their categories and attributes.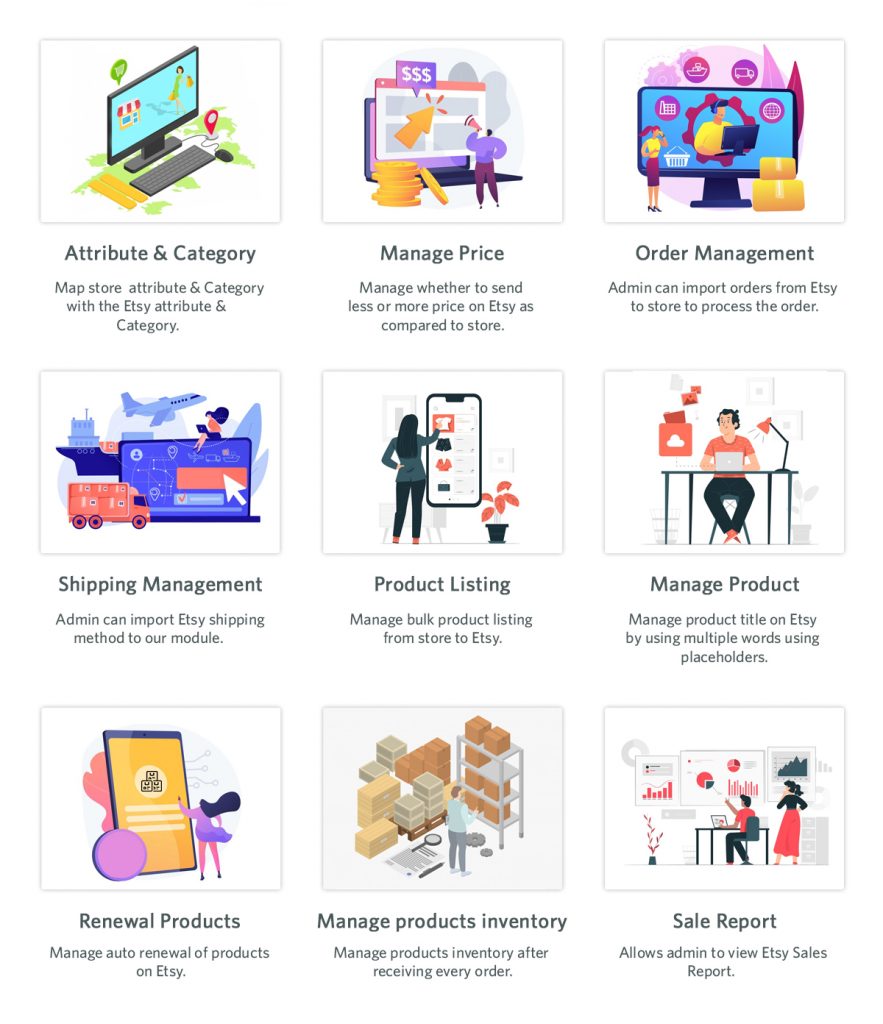 Centralized Order Management
Manage all of your orders in one place. You can manage orders for the goods you sell from your Etsy store directly in your WooCommerce orders area thanks to the Etsy connector for WooCommerce.
Data Synchronization in Real Time
By attracting more customers to your products through the Etsy marketplace, you can increase your conversion rate. On the WooCommerce store, keep track of inventory and orders to prevent overselling.
Shipping Profiles
Automate your shipping procedure by setting a shipping profile on Etsy and using that profile when you upload your products using the WooCommerce extension's Etsy interface.
Benefits of WooCommerce Etsy Integration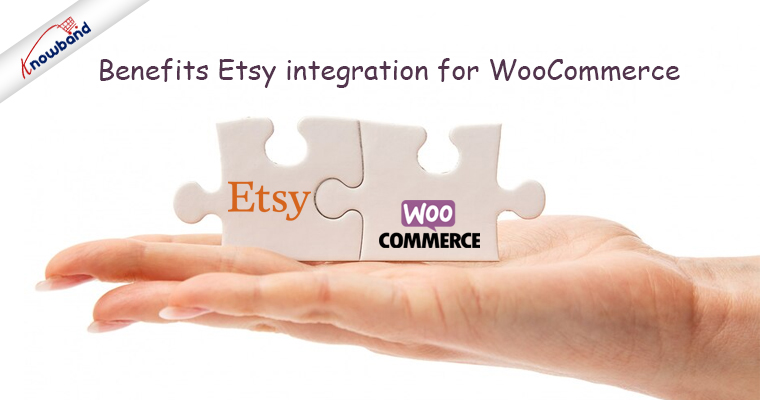 Sell on Etsy without fuss thanks to the Etsy integration for WooCommerce, and make use of its extra features.
Responsible Account Manager
Following your successful purchase of the Etsy Integrator for WooCommerce, we will assign you a professional account manager to handle all of your installation, extension, and other related concerns.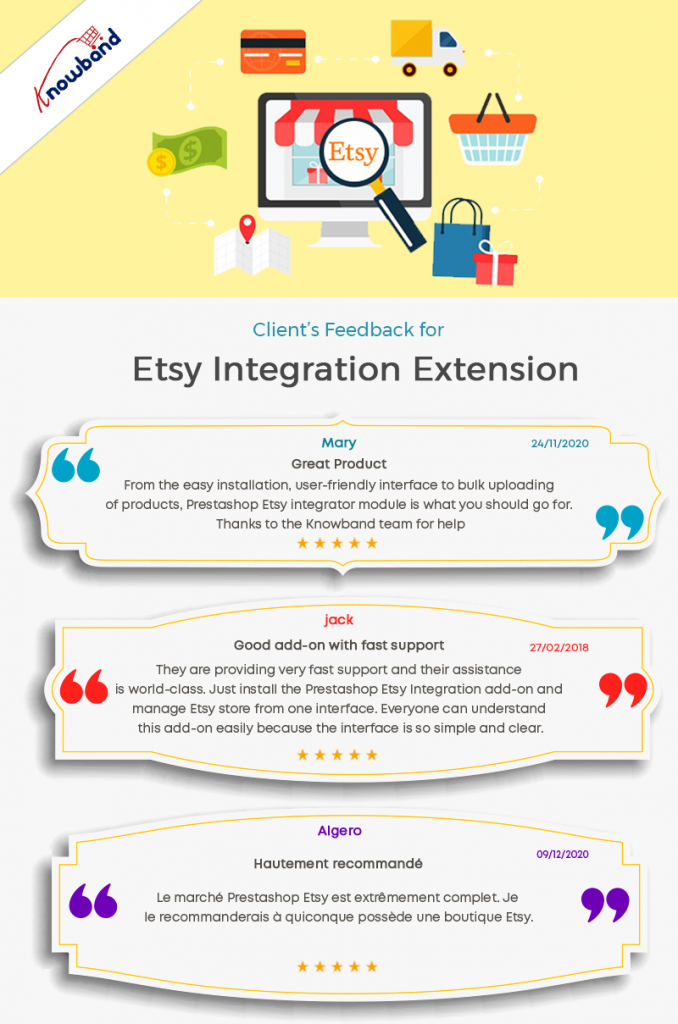 24/7 Free assistance
We offer you 24 hours a day, 7 days a week, expert guidance on decisions pertaining to your Etsy stores, shipping, transfers, and much more via chat, phone calls, and skype.
Why should you use WooCommerce's Etsy Integration?
Etsy provides a number of options that simplify the selling process. Please let us know if there are any features you would like to customize. Our professionals at Knowband will assist you in selling effectively and generating more income. We offer Etsy Marketplace Connector plugins for various other platforms like PrestaShop, OpenCart, and Magento 2 too.