The business owner can designate several pickup locations, as well as their own location and operating hours, using the store locator tool. You might think that locating a location for your business is as easy as putting a finger on a map. However, there are several factors to take into account while choosing a business location. Making the appropriate office space choice can have huge advantages, but making the wrong choice can backfire.
This article will list the reasons why a store locator is essential for business.
Launch your eCommerce Right Away
Customers can find nearby physical locations using the store locator by entering their current location or address.
From the frontend section, store administrators can create new locations for their outlets and add the necessary markers to Google Maps on individual store views.
Magento 2 Pickup Store module
For each place that is generated, they can also alter the map's latitude and longitude parameters.
Customers can pick up their orders from the nearby store thanks to this. Additionally, it gives vendors more options for buyers while decreasing delivery costs.
Essentials of a Store Locator
Given that you now understand some fundamental ideas regarding store locators. Let's talk about some of the essential components that your store locator ought to have.
Owners can add numerous pick-up locations, as well as their own location and operating hours, using the Magento 2 store locator. The following characteristics are seen in store locators.
Core Features of Store Locator Module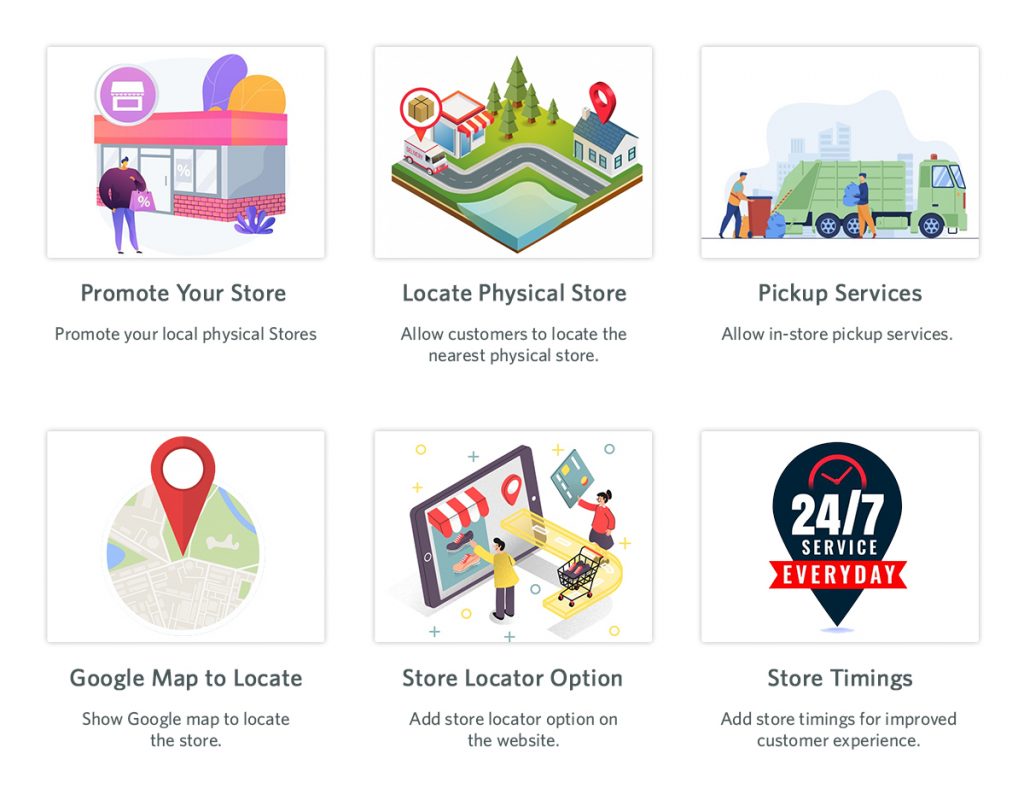 Customers can utilize the store locator's integrated Google Maps feature to discover the closest pickup location.
The owner can even set pick-up places for holidays using this.
A pick-up store's range can be specified by the store owner in terms of kilometers.
You can focus your search on products and areas.
You can look at a map and acquire GPS coordinates with the store finder.
Sliders with store details and images are displayed.
Maps are modifiable, as is the store finder.
Set the holiday schedule and business hours for a specific store.
increases local commerce optimization for search engines.
Why is a store locator needed by your company?
Businesses with physical retail locations are searching for a competitive advantage as e-commerce sales increase.
In order to drive customers back into their stores and turn online traffic into actual customers, brands must include a store locator on their websites, mobile apps, and social media pages.
Uses of Magento 2 Store Locator Module
According to data, 70% of smartphone users plan their shopping trips using a location. The store locator is therefore a requirement if you wish to provide professional assistance while increasing sales.
How Does the Store Finder Operate?

A shop locator is a tool you may include on the website or social media pages of your business to assist clients in finding a specific store's location.
With the store finder, we may add a lot of locations with product search based on their locality.
Thus, it is a straightforward form that shows a list of markers denoting locations on a map to assist visitors in finding the closest location of a company they wish to visit.
How can you use the store locator in your businesses?
By directing visitors to local store pages, store locators serve a critical role in aiding businesses in enhancing their local search visibility.
Businesses with physical retail sites are searching for a competitive advantage as e-commerce sales rise.
The Magento 2 Store Locator Module has what purpose?
The in-store pick-up option is the primary service provided by the omnichannel e-commerce company. Companies invest in retail order management systems for this reason.
It offers the business owner various advantages, including increased foot traffic, lower shipping costs, more client loyalty, and a stronger brand image.
Utilizing a Magento 2 Store
Customers nowadays prefer to pick up their orders for free from their neighborhood store rather than pay for delivery.
Using this module, customers can shop online and pick up their packages in the local store.
Advantages of Store Locators
Making it as easy as possible for customers to find the store and make purchases is essential for any savvy entrepreneur running an online store.
It follows that the Store Locator is a crucial tool if you want to provide expert service while increasing sales.
Benefits of Store Locator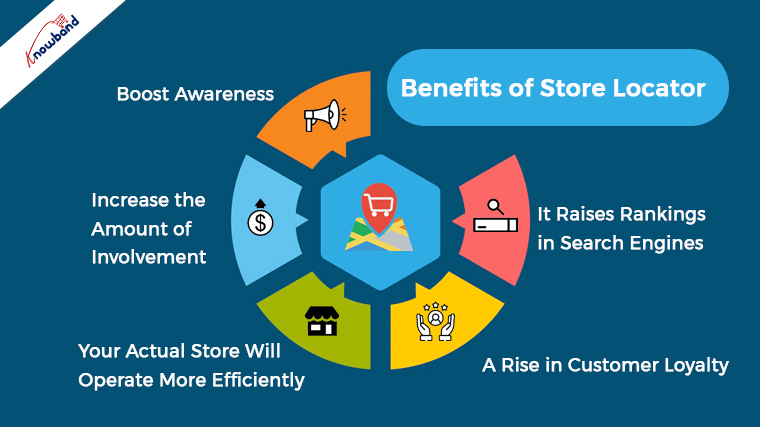 It raises rankings in search engines.
A rise in customer loyalty
Your actual store will operate more efficiently.
Increase the amount of involvement.
Boost awareness.
Conclusion
You may improve your company's visibility, build client trust and loyalty, enhance site traffic, and discover more about your customers in order to better serve them by installing the Magento 2 Store Locator module.
As a result, we can state that Magento 2 is the best choice for all of your business needs. It has a tonne of features and is the greatest option for all of your company needs, so you may use it.
You can start running your business activities with it effectively because it is packed with numerous features.