The Social Loginizer module by Knowband, which will make it easy for you to add social login choices to your website, is also discussed along with the advantages of social login on eCommerce websites. Upon entering an eCommerce website, visitors are frequently asked to fill out a sign-up form. Users will have a difficult time as a result, and their experience will be made worse if they are unable to forego the enrollment procedure.
But thanks to social login, the signup process is now quick and uncomplicated. When it comes to user experience and conversions, social login is crucial in e-commerce.
As a netizen, you've probably seen the social login option on most eCommerce websites or in the corresponding mobile app.
Social Login: What is it?
By using their existing login credentials from social media networks like Facebook, Instagram, and Twitter, users can sign up on a third-party platform using social login, also known as social sign-in, and avoid having to create new accounts. In order to reduce the time required for a signup, it is designed to streamline registration and do away with the manual registration process.
How does Social Login Operate?

Procedures for adding social login to your store
First Step: The user chooses the preferred social media network in Step 1.
Second Step: The system sends the chosen social network a login request.
Third Step: The user is prompted to input their login information (if not logged in already). The user is then informed by a pop-up prompt that information is being gathered. Users are enrolled through their social media accounts only when they give their consent.
Examples of Social Login
Let's look at a few illustrations of social logins. Several well-known websites with social login options include:
Quora
Canva
Pinning
Social Login Advantages
Have you ever thought about the benefits of social login on your e-commerce website? Therefore, you have already lost out on a substantial portion of potential consumers if you haven't been giving your visitors the choice to log in via social media.
But before it's too late, let's try to grasp why having a social login option on your website is so important in the modern era. The 10 main advantages of social login in eCommerce are discussed in this article.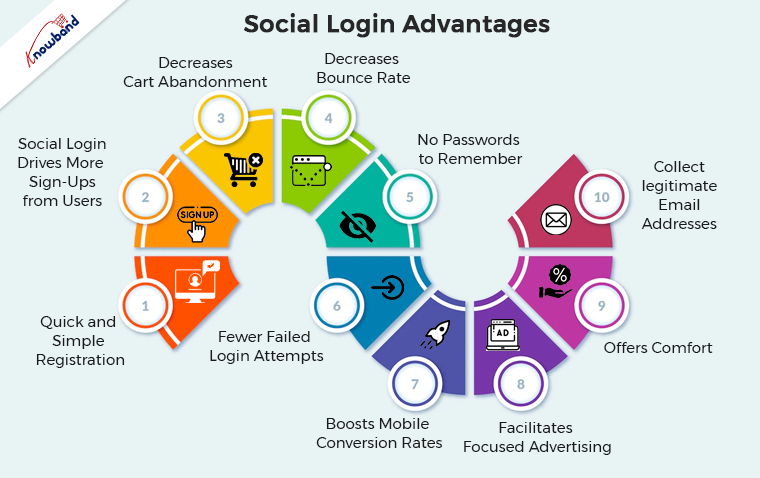 1. Quick and Simple Registration
Social login's main advantage is that it provides a streamlined, quick, and simple registration process.
For users, having to register for a new account each time they visit a different eCommerce site is rather annoying. In these circumstances, social login comes in handy. With only one click, clients may quickly and easily finish the registration procedure, which is convenient.
2. Social Login Drives More Sign-Ups from Users
Due to the hassle-free signup experience and increased chances of successful signups provided by social login. This is the first step toward a better user experience that encourages people to register on the platform that they are currently using.
You will have more people on your email list as more people sign up. People are more inclined to sign up if they aren't concerned about making a new account.
3. Decreases Cart Abandonment
Adding to the advantages of social login is the fact that it lowers cart abandonment. It transforms a laborious checkout process into a simple one.
When checking out online, customers are frequently required to complete a registration process. It could serve as a roadblock to successful conversion and result in cart abandonment.
By providing consumers with a hassle-free checkout experience, a social sign-in option on the checkout page can lower the likelihood of cart abandonment and enhance your conversions. It guarantees that the checkout process will not be interrupted. It is also among the top methods for enhancing checkout.
4. Decreases Bounce Rate
People who detest filling out registration forms may leave your website right away once they see a sign-up form, which causes the bounce rate to rise.
The presence of a social login encourages users to join up quickly, which lowers your bounce rate and lengthens the average visit time at the same time.
5. No Passwords to Remember
Social login eliminates the hassle of having to remember passwords, which is one of its main advantages.
When forced to choose a new password for each website, people develop password fatigue. Additionally, trying to remember many passwords becomes very challenging.
By enabling users to register on several platforms using their favorite social accounts, social login lessens password fatigue. It eliminates the requirement for a new password.
6. Fewer failed login attempts
Password fatigue causes people to forget their previously set passwords or struggle to remember them while attempting to log in in the future. This ultimately results in users leaving the website.
Websites do have the option to recover or change the password, but most users choose not to do so because having to remember multiple passwords would be more difficult.
The likelihood of a failed login drastically decreases because social sign-in eliminates the need to memorize passwords.
7. Boosts Mobile Conversion Rates
Today, more than half of internet shoppers choose mobile devices. Having a mobile-friendly eCommerce site is so crucial and cannot be ignored.
Mobile users can easily sign up using their cellphones thanks to social login on a flexible website. It helps you get more mobile conversions and boosts your mobile visitors.
Don't forget to include the social login option in your brand's mobile app if you already have one or plan to release one in the future.
8. Facilitates Focused Advertising
More client information is made available to you through social login, which you may use to focus your marketing efforts on a particular demographic. Name, email address, gender, age, location, and other details might be included in this. The constant updating of social media accounts by internet users also provides you with more detailed and accurate information about a user.
This social data can be used by marketers to offer customized content and boost the performance of their email marketing initiatives.
9. Offers comfort
Users might not feel comfortable on your website if your brand is not well-known.
But if you give them access to anything like a Facebook, Google, or Instagram login, it will foster trust, and they won't be hesitant to sign up.
10. Collect legitimate email addresses
Despite the fact that I listed it under the advantages of social login, I am not quite convinced by this argument because it occasionally has both pros and cons.
The benefit of having users choose a social login option is that you will receive verified email addresses. In other words, if a user is prepared to register using a social network account, it is likely that they have provided truthful information on that specific platform.
This might also work against you, though. You should avoid targeting those folks on social media, especially Facebook because they have a lot of phony accounts and won't help you make any money.
Social Loginizer by Knownband
Your eCommerce website can use the module to integrate up to 15 different social login options. It provides sign-up and login options through Facebook, Google, Twitter, Instagram, LinkedIn, Amazon, Yahoo, PayPal, Live, WordPress, Dropbox, Vkontakte, FourSquare, Github, and Disqus.
Additionally, you may add the social login block to a variety of pages, such as the home page, product page, checkout page, etc. The social icons can also be changed.
For a variety of platforms, Knowband offers social login.
Several eCommerce platforms, including Prestashop, OpenCart, Magento, and Magento 2, are supported by Knowband's Social Login module. If you run a business on one of the aforementioned platforms, consider:
Facebook Login for OpenCart
You can email us at [email protected] if you need help with any of the aforementioned modules.
Final Words
The advantages of social login that I just listed should be sufficient to convince you to implement it on your website. And after you've set everything up, stop using simply Facebook and Google Login.
It wouldn't be a good idea, in my opinion, to restrict signup possibilities on your website. For instance, a person who has an Instagram account but does not use Facebook would find the Facebook login option pointless.
Placing the well-known social networks would be a smart decision, even if it is highly unlikely given that practically everyone has a Facebook account.
Please share your thoughts in the comments section if you found the information in this article useful or if you have anything to add.