For a business owner, a multi-vendor online marketplace has a lot of possibilities in terms of revenue. Nobody could have predicted the development of new businesses like Amazon, Etsy, eBay, AliExpress, and many more when the company was first presented in 1995. Such marketplaces have expanded globally as a result of market demand.
Over time, there has been a noticeable movement in the market as most business owners switch from single-vendor online stores to multi-vendor marketplaces. The multi-vendor marketplace option for eCommerce business owners is cost-effective since it enables them to sell a variety of products to a bigger audience without maintaining an inventory. The operations on such a platform are synchronized as more customers desire more merchants and more sellers give way to more customers. It's a total win-win situation for the owner because they can concentrate on boosting business growth without worrying about doing so at any given moment.
What Offers Does Marketplace Module Make to its Sellers?

By deciding to construct your marketplace with Knowband, you give thousands of vendors the option to open a personal vendor account on your website. As you attempt to develop your multi-vendor eCommerce marketplace, they profit more as a result.
Consider the Following Further Advantages:
A seller can design their own store, complete with a distinctive logo, banner, and tabbed navigation.
Customers can choose to like their shop, post about it on social networks, or give them a direct note.
Depending on their preference, they may declare the pricing of the products as wholesale or retail.
The product performance report and sales reports are simple for them to evaluate.
Through the sellers portal, sellers can effortlessly manage their inventory.
Knowband concentrates on developing your website with conversions in mind. Sellers can thereby increase the number of visitors who become customers.
Sellers can use import/export functionality to upload, amend, and then import a file containing product information. Time is saved, and the store is better managed, as a result. Additionally, Knowband can import data from the backend for them.
Knowband Marketplace module provides sellers with a speedy, conversion-optimized mobile app that enables them to respond to each user right away, keep track of all orders, and boost conversions.
How are consumers helped by Marketplace built by Knowband's Multi-Seller Marketplace Plugin?
Most users prefer using a mobile app over a mobile website to access a store. Customers are free to select from the several options available based on their requirements and needs. Purchasing everything from one location is much more convenient than visiting several stores to meet various needs.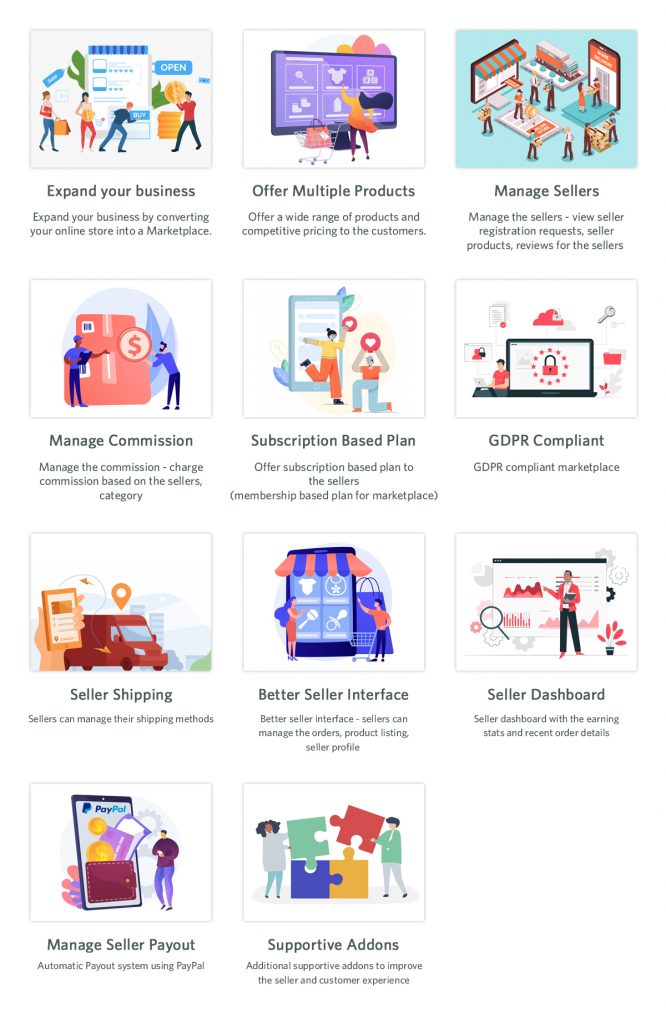 Here Are Some Further Advantages for Buyers:
Customers have the chance to purchase goods at lower prices because there is fierce rivalry among the store's merchants.
Users now have the choice to purchase goods based on intelligent recommendations, which makes the purchasing process easier.
Users have the option to leave reviews and ratings for products, which distinguishes your product page from competitors' and inspires confidence in potential buyers.
When a customer has a question or a problem, they can message the vendor directly.
Knowband responsive design guarantees users a consistent user experience on all platforms, including desktops, smartphones, and tablets.
The multi-vendor marketplace system is also available as an intuitive app, making it easier for consumers to shop while they are on the go.
The usage of several color themes enables the provision of a personalized user experience dependent on the nature of the user or the sorts of items.
Customers have the option to return their orders by following a straightforward procedure if they are dissatisfied with the transaction.
Knowband's simplified checkout procedure influences customers' purchasing decisions and boosts conversion rates.
Administrators may implement unique birthday discounts or incentives to promote additional purchases.
Knowband's incredible built-in product page features, such as the zoom tool, improve prospective customers' experiences and have a favorable effect on their purchasing decisions.
The user-friendly Knowband mobile app, which is available to customers, enables them to make purchases while they're on the road and keeps them constantly informed of new promotions.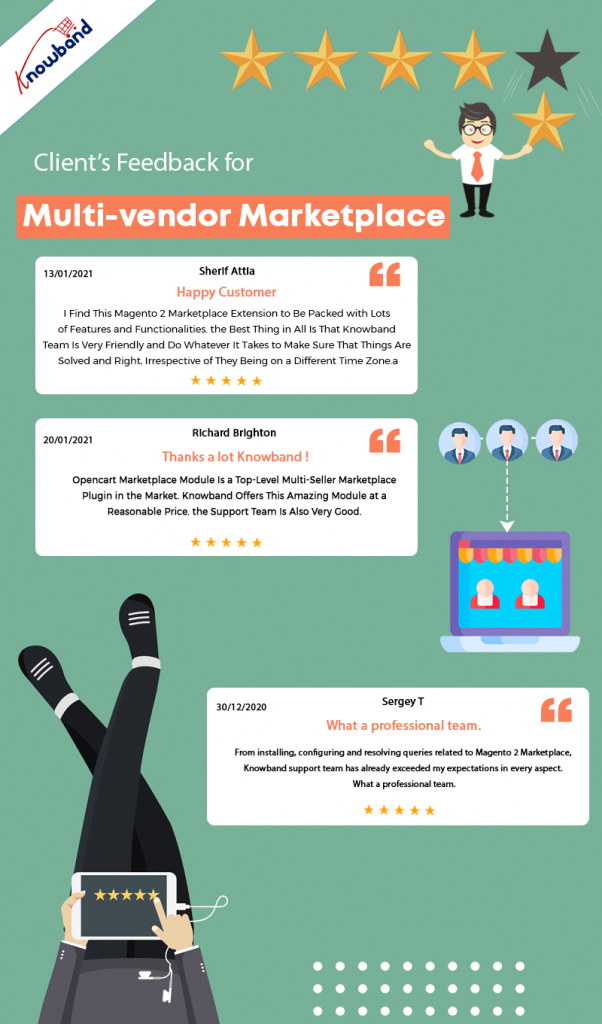 Benefits for Business Owners and Entrepreneurs
Knowband, a multi-vendor marketplace solution, offers several advantages to customers and sellers alike. However, you can also benefit in a number of ways. You don't have to bother about producing or marketing items, for starters. The true value in this situation is not in promoting the products but rather in controlling the market and coming up with innovative strategies for raising awareness and driving traffic.
What else?
Knowband is the only platform that entrepreneurs should consider to create an eCommerce marketplace similar to eBay, Etsy, or Amazon. Knowband offers an ideal multi-vendor eCommerce marketplace solution that enables you to launch a marketplace that is conversion-focused.
Due to its incredible features, scalability, adaptable technology, cost-effectiveness, and free 3-month technical assistance for any faults, the platform is trusted by 1000+ firms worldwide to create a multi-vendor eCommerce marketplace.
In addition, Knowband allows you to start an online store in any sector, including the ones listed below and more:
Sports
Jewelry
Electronics
Furniture
Apparel
Digital Goods
Together, this adds to its beauty and enables you to start a successful business without breaking the bank.
Knowband maintains an open line of communication and informs you of any updates. As a result, it enables you to maintain whole attention on the development and operation of your firm. Additionally, it helps you save time and money by making it easier to construct a website with a user-friendly layout and cutting-edge features. Particularly startups wanting to maximize benefits at minimal expense can make use of the platform. To know further about the installation and features related to Multi-Seller Marketplace, feel free to get in touch with us at [email protected].