In today's digital age, having a mobile app for your WooCommerce store is essential to reach a wider customer base and provide a seamless shopping experience.
However, designing a user-friendly mobile app requires careful planning and consideration. Solving the problem, at Knowband, we provide WooCommerce Android and iOS App Builder.
With the help of mobile App builder, the WooCommerce admins can create white labelled apps for their online website without any coding skills.
Following the same, to help you create a top-notch WooCommerce mobile app, we've compiled a list of best practices to guide you through the process.

Step 1: Install the WooCommerce App Builder
Starting from the scratch, for creating the mobile apps with the mobile app builder, you need to install the plugin on your WooCommerce store. Along with your purchase, you will get the installable files along with the installation guide.
Further, you can install the Knowband WooCommerce mobile app builder using the FTP details of your store.
Step 2: Customize Your Mobile App!
After setting up your plugin installation, you can start customizing your mobile app. We offer a drag-and-drop interface, allowing you to easily add and arrange elements such as product categories, banners, and more. You can also personalize the app's appearance by selecting fonts, colors, and layout options that align with your brand identity right from the general setting tab of the module.
Step 3: Share the Pre-Requisite!
In case you are getting any queries or issues while installing the module at your end, you can also find us at [email protected]. Our team will assist you further on the module installation at zero charges.
Further, after module installation and demo app preview, you can provide us with the pre-requisite details of your Android and iOS apps. Basic details such as app icon, splash screen, default language you want us to set for the app, etc, comes under the following requirement.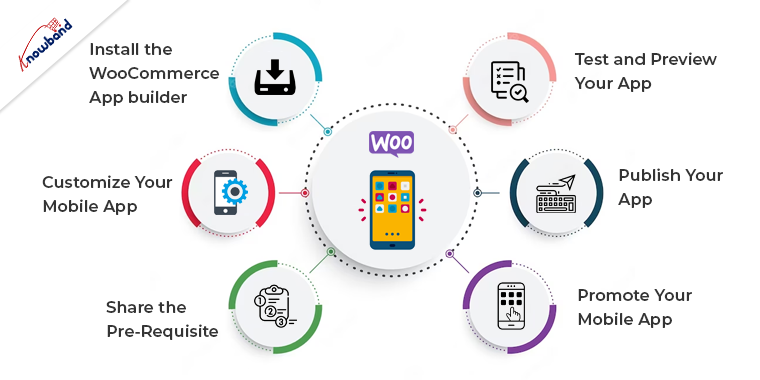 Step 4: Test and Preview Your App!
After getting the pre-requisite and review points on the demo apps. We will add the same in your final apps and will share the final Android and iOS apps with you for a final review.
You may suggest any additional features or customization works and our tech team will assist you further on the same.
Also, before publishing your app, you can thoroughly test its functionality and user experience. You can also pay attention to details like navigation, loading speed, and overall usability to ensure a seamless experience for your app users and pass out any suggestion points you got.
Step 5: Publish Your App!
Once you're satisfied with the app's design and performance, it's time to publish it to the app stores. Further, you need an Apple developer and play console developer account for app publishing.
As per your choices, we will create the .aab and IPA files with you over mails and you can proceed further to upload the same on the Apple app and Google Play store.
However, if you want us to upload your Android or iOS apps, we would be more than happy to assist you further in the same.
Step 6: Promote Your Mobile App!

After your app is live, it's important to promote it to maximize its visibility and downloads. Leverage your existing customer base by sending notifications or emails, highlighting the benefits of your mobile app. Utilize social media platforms, create app-specific promotions, and collaborate with influencers to spread the word about your app.
Conclusion!
In today's mobile-driven world, creating a mobile app for your WooCommerce store is a strategic move. To engage with customers, boost sales, and enhance their shopping experience. With the help of the Knowband WooCommerce Mobile App Builder, the process becomes accessible to everyone, even without technical expertise.